Since 2007, I've been playing Travian on several international servers. I started with Travian 2.5 and am currently on Travian 3.1. I've used several names on the servers but my callsign is not important. Here's what's more important.
I ended my last server with a top 20 overall rank. With 38 villages under my belt, I also bagged the top 20 offense and defense rank.
I am still actively playing travian today, but I prefer to remain anonymous on the server to prevent myself from being targeted and also to prevent prejudice.
Highest ranks achieved on my last server:
| | | |
| --- | --- | --- |
| | Highest Population Rank | : Number 8 |
| | Highest Offense Rank | : Number 2 |
| | Highest Defense Rank | : Number 1 |

As A World Wonder Host
Only thirteen players are given the opportunity to host a World Wonder village on a server. It is both an honor and privilege and also a burden to be given such an opportunity.

In my Travian career, I hosted the World Wonder village TWICE. In addition, I also sat for other WW hosts in my alliance, giving me vast knowledge on how others build and manage their World Wonder villages.
In addition to hosting a World Wonder, I also built a World Wonder Hammer. My hammer was built over a course of four months, and when it was finally used, I had the third largest army on the server. It was over 200,000 in crop consumption.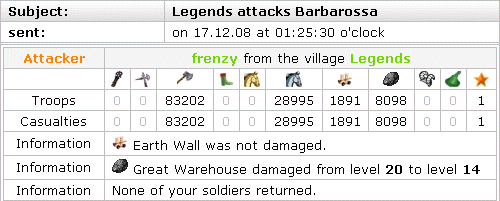 Medals and Awards
Reserved for only ten elite players every week, I've won numerous awards and medals that I've lost count of them. They are mainly the Top Robber of the week, Top Attacker of the week and Top Defender of the week – and numerous other combinations.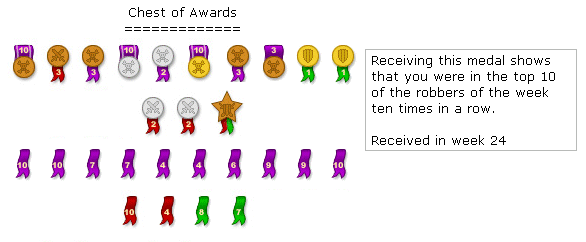 Alliance Positions
Lastly, it wouldn't be complete if I hadn't mention about my alliance. They are great bunch of people and I couldn't have done it without their support. I'm proud to have played a dynamic role, moving from the ranks of defense coordinator, to offense coordinator, council member, and finally alliance head.
To be honest, there wasn't really such a thing as alliance head, just that all matters ran through me, not because I wanted to, but because somehow I had gravitated to the top.
We finished as the top alliance on the server. I'm sure you agree you had better know what you're doing if you're going to lead the top alliance and earn the trust and respect of some of the biggest players on the server.
I play only on international servers, where its most competitive with the highest number of players (over 30,000 per server). Its my server of choice because international servers are where all the best players from around the world play.
But I don't do this alone. I play the game with my wife Ivy, a fantastic robber and farmer, my buddy David, a diligent and eagle eyed player, and my brother in law Christopher, who helps with managing. They are my co-players because there's no way one person can manage this monster of an account.
But all that is not important. What's important is what does this mean for you?
Every day I spend hours playing the game, trying out new strategies and testing new playing styles with my buddies.
Travian Secrets is the compilation of all my tips and strategies and a culmination of the expertise and advice of not just me, but also that of my co-players.
At times I will go into some depth and explain why a given technique works. Other times I would assume you are already familiar with the Travian concepts, so I will breeze through them.
I will also stick to my guns and explain things from my perspective – as a top Travian player. Depending on your experience level, some techniques may seem elemental, while others sound quite extraordinary. Remember this is what worked for me and you are free to adapt and choose the strategies that work for you too.
One thing I'm not, is I'm not a writer. So please forget about the typos and the grammatical errors, and focus on the message – that's what counts wherever you are in the game.